ACCELERATE THE TRANSITION TO A GREEN ECONOMY
The goal
For Quebec to take a leading role in the global effort to fight climate change and accelerate the transition to a prosperous, sustainable green economy.
The challenge
Reach Quebec's ambitious 2030 target of reducing its GHG emissions by 37.5% below 1990 levels.
The opportunity
Meet this challenge by fielding Quebec's strongest research and innovation movers.
To mobilize businesses and academic researchers to create innovative GHG emission reduction technologies and practices in Quebec.
FIELDING OUR BEST AND BRIGHTEST INNOVATORS TO TAKE URGENT ACTION ON THE ENVIRONMENT
Funding program for our environment
Innov-R aims to provide substantial financial support to bring forward new collaborative R&D projects that will contribute concretely to long-term GHG emission reductions in Quebec.
Funding program 
in collaborative R&D
to meet goals GHG emission reduction.
Goals:
Encourage the emergence of innovate technologies and practices that will accelerate Quebec's progression toward its GHG reduction targets;

Promote sharing of new knowledge in the area of GHG reduction;

Support patenting of new GHG reduction technologies;

Foster concerted action among GHG reduction researchers and innovators;

Rally researchers in academia and business around collaborative innovation projects to uncover GHG reduction solutions;

Engage businesses and organizations that use the technologies and practices developed through these projects;

Stimulate investment in innovation aimed at GHG emission reduction.
Highlights
Funding program for projects in Quebec with a GHG reduction potential

For collaborative R&D projects with a technology readiness level (TRL) of 1 to 6, involving at least:

– One business operating in Quebec

– One university, college technology transfer centre (CTTC) or public research centre.

The grant offered may cover up to 50% of allowable expenses
Total public funding programs may cover up to, but no more than, 80% of allowable expenses.
The company must provide payment for a minimum of 20% of allowable expenses, 50% of which may be in kind

Cities and towns, NPO's, organizations and Crown corporations may be eligible.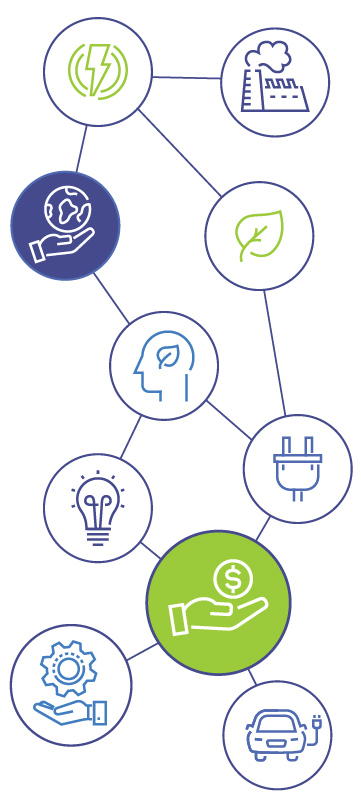 The 4th call for projects – INNOV-R has been launched.
The deadline to receive your projects is January 24, 2022.
Do you have an innovative solution for GHG emission reduction?
Do you have a proposal to submit? Don't hesitate: talk to us.
One of our advisers will be in touch to answer your questions, examine funding opportunities, initiate a discussion of your proposals and help you find the perfect partners. We're there for you.
Is your collaborative R&D project ready to go?
Do you have the partners you'll need to succeed?
Your RSRI (research and development consortium) will take your project proposal according to usual procedures and evaluate its GHG emissions reduction potential for Quebec
REGROUPEMENTS SECTORIELS DE RECHERCHE INDUSTRIELLE (RSRI)
RSRI's (research and development consortiums) act as intermediating and funding organizations for collaborative research in key sectors of the Quebec economy. They are your gateway to Innov-R.
"The fight against climate change is an opportunity and not a burden. It is a way to prosperity. The new green economy takes invention, innovation and imagination to a level not seen since the industrial revolution."
United Nations Environment Programme